Despite its challenges being a vegetarian, don't hesitate trying out Thai food. If you haven't yet explored this cuisine you'll discover that it has some of the most unique and beautiful flavors in the entire world of vegetarian cooking.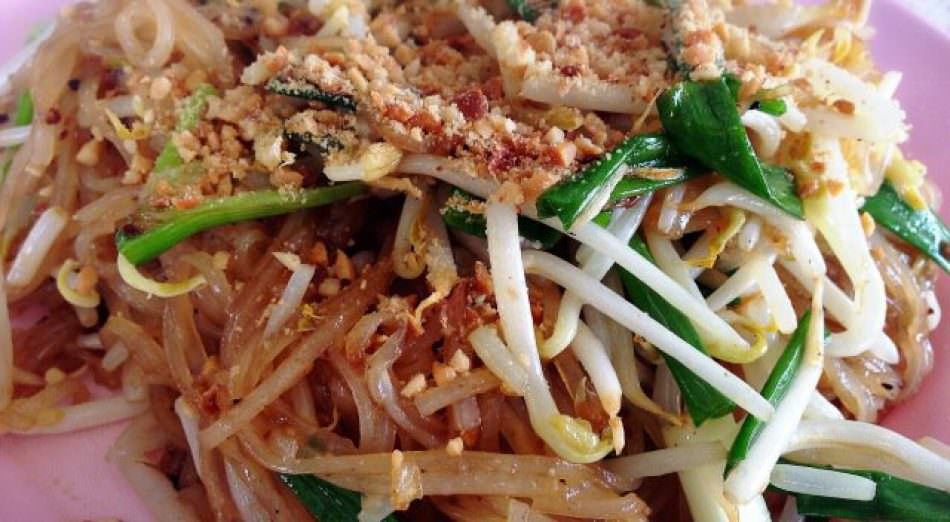 Thai food, like many other Asian cuisines, can easily be vegan. The base for the majority of dishes is carbohydrate: rice and noodles – with lots of vegetables, and no cheese, butter or milk. Meat is only a small part of the dish, so altering it will not change much of the taste and dining experience. The full flavor and… Read more at Veganuary
Most thai restaurants put shrimp sauce into their curries. Since the curry pastes mixed into each meal are pre-made, there's really no way you can order a standard curry item from these restaurants and get them to withhold the shrimp sauce. They'll also often put a little bit of fish sauce into the coconut milk.

At Thai restaurants that don't go out of their way to please vegans, your best choice may be to special order vegetables and tofu in plain coconut milk, seasoned only with salt and lemon juice, accompanied by jasmine rice. This should reliably be vegan, and since coconut milk is so ridiculously delicious your meal will still have plenty of flavor even without the curry. Alternately, you can go super basic and ask for plain stir-fried vegetables seasoned with… Read more at Vegan.com
Miang Kham is Thai traditional food eat with herb and complementing water to taste sweet and salt no spicy and have fragrance from herb main ingredient is chaplo… Watch it here
There are many Thai spices and ingredients in Thai cuisine actually have health and feel-great benefits. Like Thai ginger is great for digestion, turmeric has anti-inflammatory benefits, and lemongrass help treat colds and stomach problems. These are just some of the many healthy Thai spices used in Thai cuisine.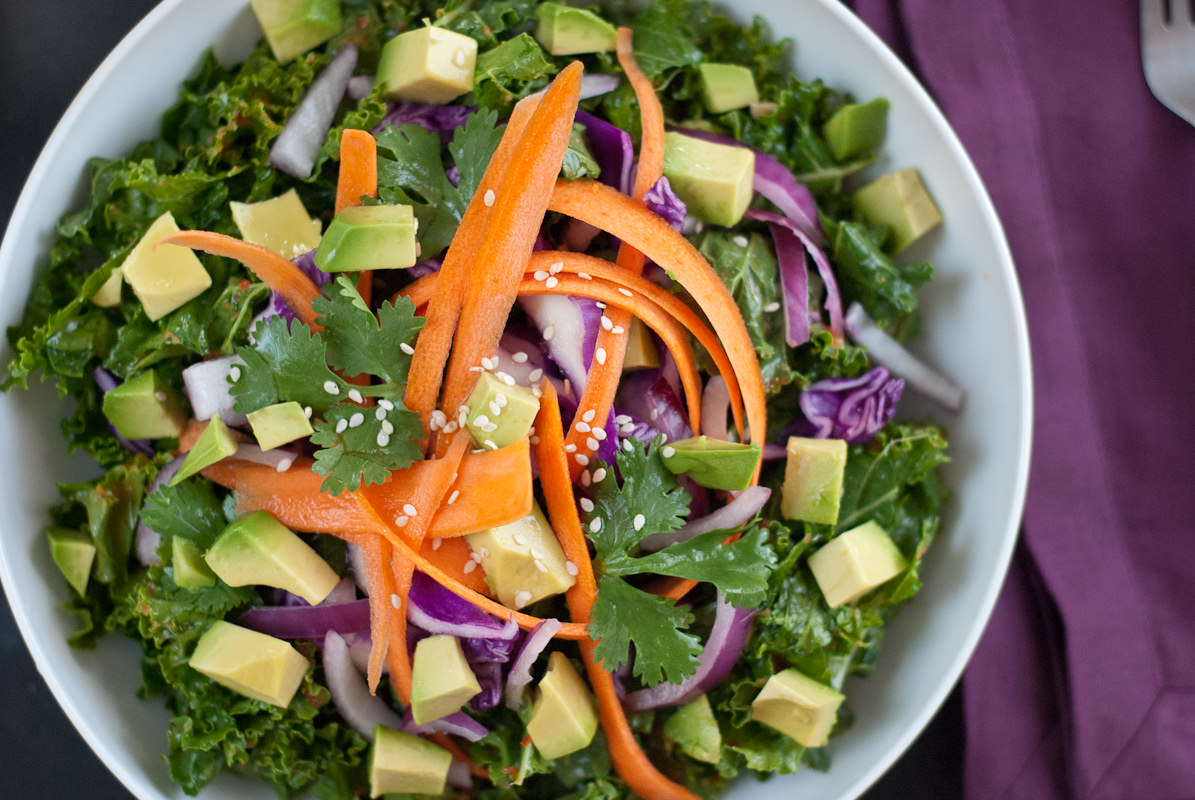 World's Best Superfoods
Can a soup fight cancer? If it's a Thai favorite called Tom Yung Gung, the answer just might be yes. Made with shrimp, coriander, lemongrass, ginger, and other herbs and spices used in Thai cooking, the soup was found to possess properties 100 times more effective than other antioxidants in inhibiting cancerous-tumor growth. Researchers at Thailand's… Read more at Health.com
Authentic traditional Thai cooking methods like steaming and sauteing to avoid overcooking and destroy the freshness and potency of ingredients. Traditional and authentic Thai food is definitely one of the cleanest and healthiest national cuisines that you can try.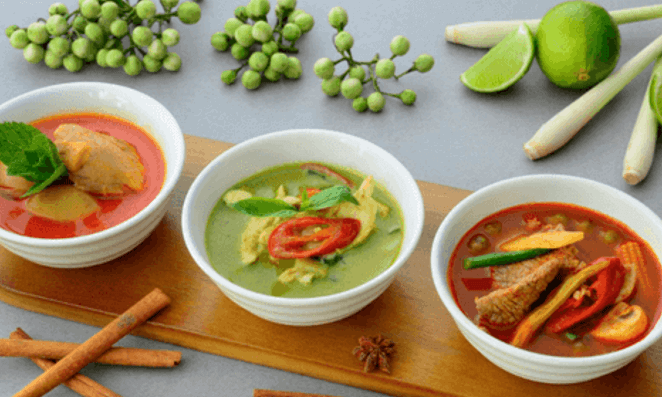 Traditional Thai Food: The First 'Superfood'?
In many ways, traditional Thai food has been ahead of the curb in terms of food trends, specifically the superfood craze that has taken the Western food-world by storm. Thai food's unsparing use of nutrient dense ingredients like ginger, garlic, turmeric, cinnamon, coconut, sesame and chilli makes it perfect for anyone looking to improve or maintain their diet… Read more at PataraLondon.com
Thai Green Curry | Jamie Oliver
Green, red, and yellow may be all that you know about Thai curries. If you have come that far, however, let us break down these famous thai curries and know exactly what does a great thai curry actually made of. Let's find out which spices and ingredients really go into each curry paste, and what are the colors, tastes, and aromas that give each thai curry its unique qualities.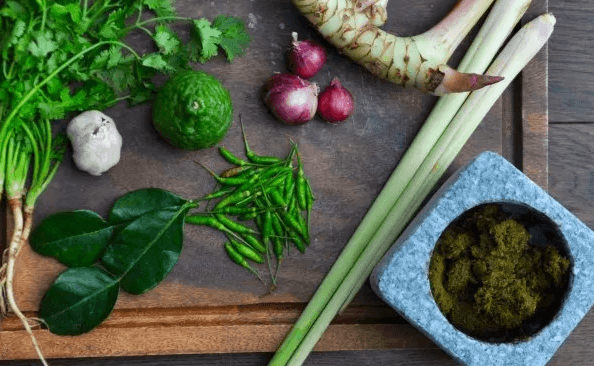 Inside The Anatomy Of Your Favorite Thai Curries
There's some ingredient overlap — you'll see galangal, ginger and chilies in every mix — but visualizing the components can help give you a better idea of what's in each particular blend. Nothing can beat fresh ingredients pounded by hand with a mortar and pestle at home, but commercially sold pastes will… Read more at Food Republic
Most of the spices and ingredients used in making a Thai curry paste actually have medicinal properties that have been used long time ago in traditional Thai herbal medicine. Adding these spices and ingredients in your everyday diet not only makes your food taste awesome but can also benefit your health at the same time.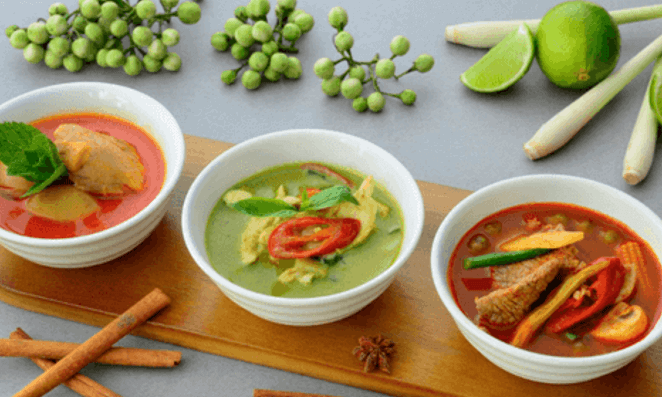 Health Benefits of Curry Paste
Curcumin, the main ingredient of turmeric and the ingredient which makes curry yellow, has blocked the growth of melanoma tumor cells and stimulated their death, according to laboratory experiments reported in the journal Cancer. Researchers say curcumin appears to affect the NF-kappa B molecule, active in several types of tumors, including melanoma, and may also be useful in treating other cancers… Read more at TempleOfThai.com
Chili Red Curry Pork – Thai Curry Pork – Thailand Street Food
Thai chili red curry pork served to local Thais and visitors alike. You will be able can maintain the authentic Thai flavor using our Thai food recipes for pad Thai. You will also find that homemade food tastes unique using our Thai food recipes for pad Thai especially when using fresh prawns/shrimp… Watch here
Thai cooking has ingredients that has a lot of health benefits and immune system-boosting nutrients. To be able to take advantage of these health benefits, it's highly recommend to try and eat Thai cuisine which uses the freshest and healthiest ingredients.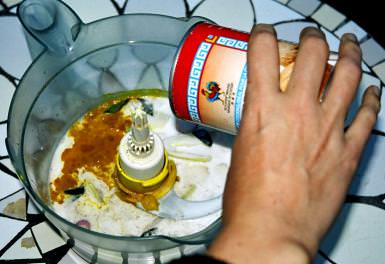 Is Thai Food Good for You?
Thai cuisine is one of the healthiest foods you can eat. In fact, several Thai dishes, such as Tom Yum Soup, are currently under scientific study for their incredible health benefits (see Thai Soup Under Study). Of course, it's already known that many of the fresh herbs and spices used in Thai cooking – such as turmeric, galangal, coriander, lemongrass, and… Read more at AboutFood
Authentic Thai cuisine is as delicious as it is healthy, making it one of the few cuisines in the world that you can indulge in without the guilt. Here are some of the healthy ingredients that you will find in some of you favorite Thai dishes.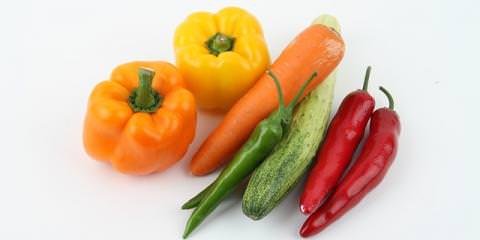 3 Healthy Ingredients Commonly Found in Thai Food
Thai food is packed with aromatic spices that come together to form the perfect blend of sweet and savory. Spices contain tons of vitamins and minerals; the more natural the source, the higher the nutritional value. That's why Thai Chef Restaurant grows all their own herbs and spices, including… Read more at NearSay.com
Thai Detox Tea – Lemongrass & Pandan
Lemongrass and pandan tea is made using both the stalks of the lemongrass plant and the leaves of the pandan plant. On their own or when combined, these plants can improve a number of health conditions and help increase the level of wellness for almost everyone. Alone, the pandan plant has been discovered to be a successful means of treating headaches and… Watch it here
If you like eating Thai food, then you may know that Galangal is the ginger used in authentic Thai cuisine. Galangal has its own unique flavor compared to your conventional ginger. Know a little bit more about what it is and why you should try this unique flavorful root.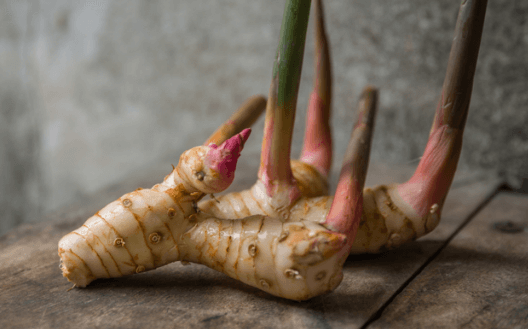 Ingredient Spotlight: Galangal, the 'Thai Ginger' You Need in Your Pantry
Did you know that galangal has been known to Europe since the Middle Ages? That's hard to believe, since many of us have never heard of it. Upon first glance, galangal looks very similar to ginger; it's a knobby, strange-looking root that has light-colored skin and protruding white stems with pink tips. Chances are, though, you've tasted galangal at least once in your life, especially if you are a fan of Thai food. It is a… Read more at One Green Planet
Galangal's medicinal benefits is quite the same to that common ginger. It can cure an upset stomach and nausea. Galangal has antiseptic properties and is packed with antioxidants, which can make skin healthier. Its anti-inflammatory properties help in targeting arthritis.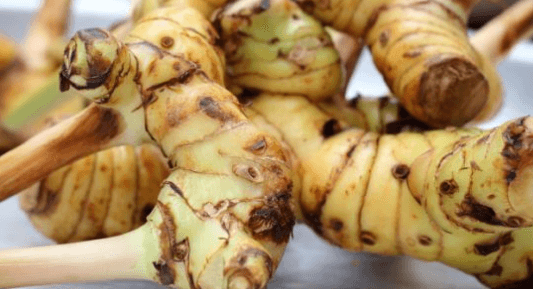 From Galangal to Basil: Spices That Make Thai Food So Healthy
Thai cuisine boasts of certain indigenous ingredients that not only go splattering in the wok but are also gifted with a number of medicinal qualities.  From curing digestive troubles, relieving common cold and flu to reducing blood pressure, boosting immunity, aiding in detoxification and much more… Read more at NDTV.com
What is the Difference Between Ginger and Galangal??!
If you've ever visited an Asian grocery store and saw something that looked like ginger, but wasn't, then you've come across galangal. In this video… Watch here
Thai food is among the most nutritious cuisines in the whole world. If you're one of those who are still don't know what exactly Thai food got to offer especially on taste and benefits  to one's health, then you should probably give Thai cuisine a try.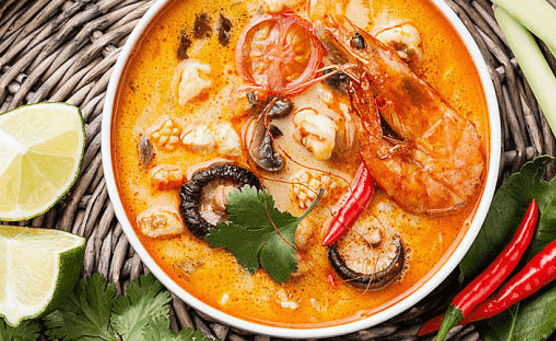 Why thai food is very good for your health
Apart from the numerous health benefits associated with the ingredients used in the preparation of Thai food, the manner and method of making and serving the dishes makes it unique. The inclusion of vegetables, spices and herbs in its preparation come with even more benefits. Below are some of… Read more at World of Healthy Tips
The moment you get to know what Thai cuisine really tastes like, there's a great chance that you will get hooked and fall in love with Thai food. In case you're a beginner at relishing or already a huge fan of Thai cuisine, the great part is that most of the popular and delicious Thai food are already widely available worldwide.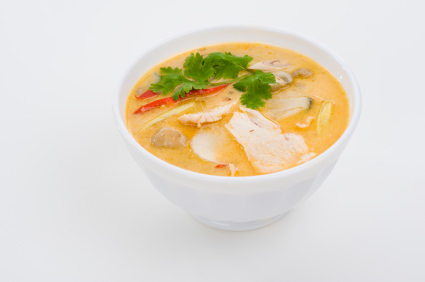 The Many Health Benefits Of Consuming Thai Food
Well, Thai food is quite similar to other types of Asian food but comprises of abundant wonderful flavors, spices and textural variety. Apart from that there are a flurry of health benefits of consuming such food which can fully be attributed to some of the amazing ingredients (like example turmeric, galangal, coriander and lemongrass) utilized in the preparation of Thai cuisine. In fact the… Read more at Thai Square
Raw Diet Recipe – Thai Salad Amazing Dressing Vegan Easy Healthy
The idea is that heating food destroys its nutrients and natural enzymes, which is bad because enzymes boost digestion and fight chronic disease. In short: When you cook it, you kill it. They claim that a raw food diet can clear up headaches and allergies, boost immunity and memory, and improve arthritis and diabetes. Think uncooked, unprocessed, mostly organic… Watch here
When we say Thai food, the first thing that comes into mind is Pad Thai but whether it be succulent chunks of grilled pork on a stick or a spicy hot bowl of  Tom Yum soup, we all have to start somewhere. If you're new to Thai food you have a lot more to explore and discover because Thai cuisine has a lot to offer to stimulate and satisfy your taste buds.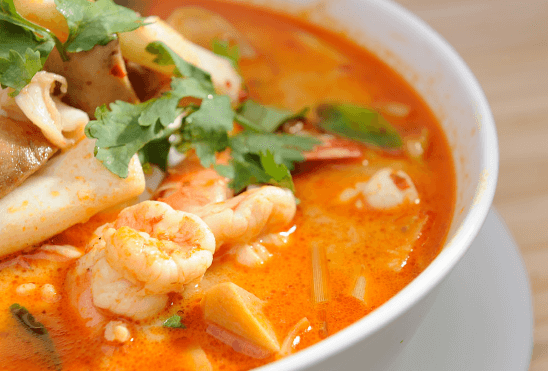 Top 10 Thai Food
Thailand's food needs little introduction. From San Francisco to Sukhothai, its profusion of exotic flavours and fragrances make it among the most coveted of international cuisines. As a walk through Bangkok forcefully reminds, these flavours and fragrances are seemingly inexhaustible… Read more at Bangkok.com
Thai food deserves an excellent reputation, and there's nothing as good and authentic as Thai cuisine as in Thailand. You just don't get the whole ambiance and experience of  Thai street food anywhere else in the world. You can find a number of international food outside their home countries, but with Thai cuisine, You will only ever really be satisfied when you're eating a hot bowl of soup at a little plastic table on the streets of Thailand.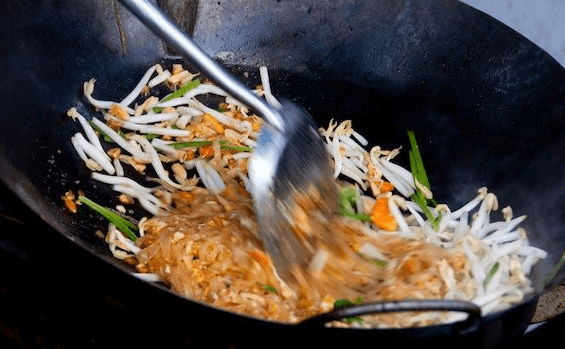 THE BEST THAI FOOD YOU CAN EAT
Let's talk about travel and my love of good Thai food. When I returned to Thailand a few weeks ago from being in Cambodia, I went on an eating binge. Cambodia, as much as I love it, doesn't have a lot of great food. It's very bland, and I missed the zesty, spicy, and flavorful Thai food. Since I was leaving Bangkok soon, I tried to enjoy as much Thai food as I could. So as a way to remember all the food I ate, as well as make you run off to your local Thai restaurant, here's a list of … Read more at Nomadic Matt
The Traditional Way to Eat Thai Food – Stop Eating it Wrong, Episode 37
Thai food is one of the world's most popular cuisines, but not every guest knows the authentic way to enjoy popular Thai dishes. Let Executive Chef/Owner Hong Thaimee of Ngam restaurant show you the best way to eat Thai food (hint: just because you have chopsticks doesn't mean you should use them for everything!)… Watch here
Many herbs and spices used in Thai cuisine have beneficial medicinal properties. Here are some examples.
Chili: "Phrik" in Thai
Chili is an erect, branched, shrub-like herb with fruits used as garnishing and flavoring in Thai dishes. There are many different species. All contain capsaicin, a biologically active ingredient beneficial to the respiratory system, blood pressure and heart. Other therapeutic uses include being a , carminative and anti flatulence agent, and digestant.
Cumin: "Yi-ra" in Thai
Cumin is a small shrubbery herb, the fruit of which contains a 2-4% volatile oil with a pungent odor, and which is used as a
flavouring and condiment. Cumin's therapeutic properties manifest as a stomachic, bitter tonic, carminative, stimulant and astringent.
Garlic: "Kra-thiam" in Thai
Garlic is an annual herbaceous plant with underground bulbs comprising several cloves. Dried mature bulbs are used as a flavoring and condiment in Thai cuisine. The bulbs contain a 0.1-0.36% garlic oil and organic sulfur compounds. Therapeutic uses are as an antimicrobial, diaphoretic, diuretic, expectorant, anti flatulence and cholesterol lowering agents.
Ginger: "Khing" in Thai
Ginger is an erect plant with thickened, fleshy and aromatic rhizomes. Used in different forms as a food, flavoring and spice. Ginger's rhizomes contain a 1-2% volatile oil. Ginger's therapeutic uses are as a carminative, antinauseant and anti-flatulence agent.
Galanga: "Kha" in Thai
Greater Galanga is an erect annual plant with aromatic, ginger-like rhizomes, and commonly used in Thai cooking as a flavoring. The approximately 0.04 volatile oil content has therapeutic uses as carminative, stomachic, anti-rheumatic and antimicrobial agents.
Lemon Basil: "Maeng-lak" in Thai
Lemon Basil is an annual herbaceous plant with slightly hairy and pale green leaves, eaten either raw or used as a flavoring, and containing approximately 0.7% volatile oil. Therapeutic benefits include the alleviation of cough symptoms, and as diaphoretic and carminative agents.
Kafffir: "Ma-krut" in Thai
The leaves, peel and juice of the Kaffir Lime are used as a flavoring in Thai cuisine. The leaves and peel contain a volatile oil. The major therapeutic benefit of the juice is as an appetizer.

(No Common English Name): Krachai in Thai 
This erect annual plant with aromatic rhizomes and yellow-brown roots, is used as a flavoring. The rhizomes contain approximately 0.8% volatile oil. The plant has stomach ache relieving and antimicrobial properties, and therapeutic benefits as an antitussive and anti-flatulence agent.
Lemon Grass: "Ta-khrai" in Thai
This erect annual plant resembles a coarse gray-green grass. Fresh leaves and grass are used as flavoring. Lemon grass contains a 0.2-0.4 volatile oil. Therapeutic properties are as a diuretic, emmanagogue, anti-flatulence, anti flu and antimicrobial agent.
Lime: "Ma-nao" in Thai
Lime is used principally as a garnish for fish and meat dishes. The fruit contains Hesperidin and Naringin , scientifically proven anti-inflammatory flavonoids. Lime juice is used as an appetizer, and has antitussive, anti flu, stomachic and antiscorbutic properties.
Marsh Mint: "Sa-ra-nae" in Thai
The fresh leaves of this herbaceous plant are used as a flavouring and eaten raw in Thai cuisine. Volatile oil contents give the plant several therapeutic uses, including carminative, mild antiseptic, local anesthetic, diaphoretic and digestant properties.
Pepper: "Phrik-Thai" in Thai
Pepper is a branching, perennial climbing plant from whose fruiting spikes both white and black pepper are obtained. Used as a spice and condiment, pepper contains a 2-4% volatile oil. Therapeutic uses are as carminative, antipyretic, diaphoretic and diuretic agents.
Holy Basil: "Ka-phrao" in Thai
Holy Basil is an annual herbaceous plant that resembles Sweet Basil but has narrower and often times reddish-purple leaves. The fresh leaves, which are used as a flavoring, contain approximately 0.5% volatile oil, which exhibits antimicrobial activity, specifically as a carminative, diaphoretic, expectorant and stomachic.

Shallot: "Hom,Hom-lek,Hom-daeng"in Thai
Shallots, or small red onions, are annual herbaceous plants. Underground bulbs comprise garlic-like cloves. Shallot bulbs contain a volatile oil, and are used as flavouring or seasoning agents. Therapeutic properties include the alleviation of stomach discomfort, and as an antihelmintic, antidiarrhoeal, expectorant, antitussive, diuretic and anti flu agents.
Sweet Basil: "Ho-ra-pha" in Thai
Sweet Basil is an annual herbaceous plant, the fresh leaves of which are either eaten raw or used as a flavouring in Thai cooking. Volatile oil content varies according to different varieties. Therapeutic properties are as carminative, diaphoretic, expectorant, digestant and stomachic agents.
Turmeric:  "Kha-min" in Thai
Turmeric is a member of the ginger family, and provides yellow colouring for Thai food. The rhizomes contain a 3-4% volatile oil with unique aromatic characteristics. Turmeric's therapeutic properties manifest as a carminative, antiflatulence and stomachic.
Home
Thank you to TAT for the use of this material


© 1997 Tourism Authority of Thailand
Most acidic fruits and vegetables that we eat can turn into alkaline in our bodies.
Raw and organic sugars like Honey produce alkaline ash, but because of a high concentrate of sugar this can also become acid-formers.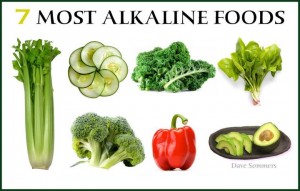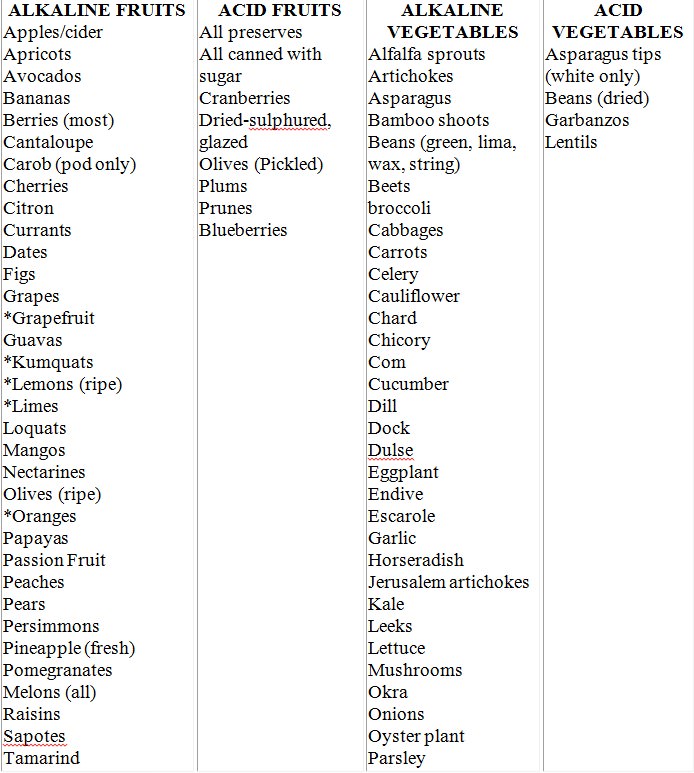 (*) Should not be eaten with other foods. They are externally acid but alkaline internally.
It must be noted that because a food is acid it is no indication that it REMAINS acid in the body. It can turn alkaline. Honey and raw sugars produce alkaline ash, but because of a high concentrate of… Read more at Palma Health
If you want to eliminate toxin and acid waste in you body, you need to help control the pH of your body.
This is possible to achieve through diet, the Alkaline Diet.
This diet will help you lead to a healthier body.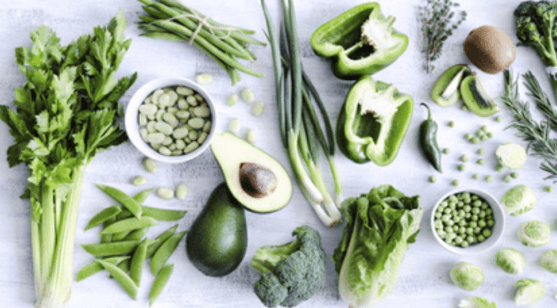 One word is enough to describe the alkaline diet – "balance." Alternatively named the "acid-alkaline balance diet," this approach to weight loss can have a profound impact on your health. A solution that eliminates acid consumed by the body through food, alkaline is a… Read more at DailySabah.com
Thai cuisine is one of the best-tasting and also, one of the most healthiest cusines worldwide. The exotic taste, fresh and organic ingredients used in Thai food and cooking methods make Thai cuisine more delicious and mouth-watering. Though Thai cuisine has a very unique and special taste and aroma that can entice foodies, they're also loaded with vitamins and minerals.
12 REASONS WHY IS THAI FOOD HEALTHY TO EAT
You can enjoy at least three and up to four or five basic taste senses in each Thai dish; sour, sweet, salty, bitter, and spicy. The basic ingredients of Thai food include; turmeric, galangal, coriander and lemongrass, chilies, coconut milk, and kaffir lime leaves. Thai foods are quite similar to Asian foods contained in a variety of flavors and spices. Some spices used in Thai food possess the healing properties for the human body… Read more at FOODIEMAGZ
Thai food is perfectly okay to eat every day, without risking your health, it all depends on the choices we make. To help you pick the right items on the menu of you favorite Thai restaurant, here's a list of healthy Thai food items.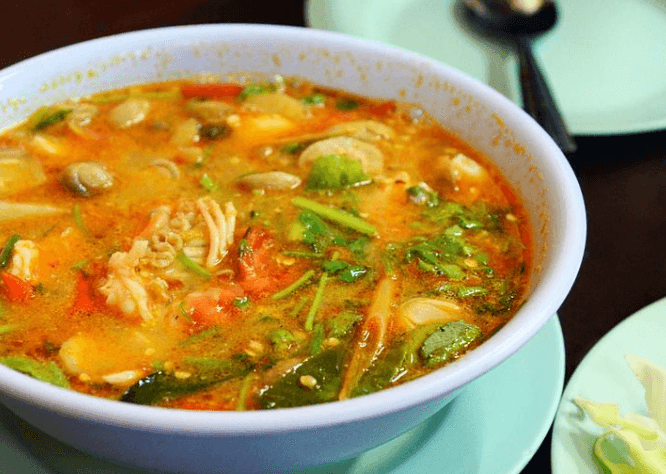 Eat What You Love – 5 Healthy Thai Food Dishes
Universally adored and perceived as the healthy choice, it can trick one into believing that we can eat it all day, every day, without consequences. But like with just about anything in life, there is a flip side to this. Deep-frying, coconut milk based curries, MSG, sugar (lots of it), saturated fats… Read more at Thanyapura.com
Thai Shrimp Soup Recipe
Today we're making a yummy Thai Shrimp Soup!… Watch here