This rich tom kah coconut milk soup has been a long-standing favorite of Thai Spices' patrons for years. It gets its unique rich flavor from quintessential Thai ingredients such as lemon grass, galangal root and kaffir lime leaf. It's a quick and easy soup to make that's surprisingly satisfying and delicious.
A Healthier Take on Tom Kah Coconut Soup
This healthy version of a traditional Thai dish is prepared using macrobiotic principles. The vegetables are cooked lightly in water instead of oil and balanced herbs are used. This soup can be made vegan, if you prefer it, by using Bragg's Liquid Amino as your stock base instead of traditional fish sauce.
Most of the ingredients for Tom Kah coconut soup you can find at your local Asian grocer, a health food store or on Amazon.com.
by Master Chef Pearl Pardee
Ingredients
Half a white onion, sliced wide

2 cans coconut milk (not lite)

1 small size carrot, cut in thick matchsticks
5-6 kaffir lime leaves (sliced thin)
2-3 slices galangal root

2 stalks of fresh lemon grass, cut into 1″ pieces

1/2 of a jalapeno pepper cut into medium pieces (or more if you prefer a hotter soup)
(Optional) other sliced vegetables such as broccoli and button mushrooms, cooked chicken pieces or shrimp
2-3 tsp Bragg's Liquid Amino seasoning or fish sauce or 1-2 tsp sea salt
Small handful of cilantro sprigs
1 green onion, sliced
2 tsp lemon juice
Preparation
1. In a separate saucepan add coconut milk, kaffir lime leaves, galangal and lemon grass. Simmer for 30 minutes to 1 hour or so for taste. (when the broth is ready you can keep the herbs in for next step or dispose of the herbs if you desire)
2. In a separate pan saute the onion, carrot pieces in a small amount of water until they begin to soften.
3. When coconut broth is ready, add the sauteed vegetables
4. Then add optional vegetables and meat.
5. Stir in Bragg's, fish sauce or sea salt and continue cooking 5 or 10 minutes longer until optional items are cooked.
6. Top with cilantro sprigs, green onion and lemon juice and serve.
Enjoy!
From Fresh Green Kale to Dried Kale Chips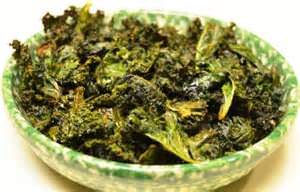 Basic Kale Chips Recipe

1 bunch kale – wash, remove stems, and tear into 3 to 4 inch pieces.
2 tablespoons nutritional yeast
1/2 tablespoon apple cider vinegar
1 tablespoon olive oil
Pinch of sea salt
Heat oven to 375 degrees.  Mix vinegar and oil, pour over kale and toss to coat.  Sprinkle in the nutritional yeast and salt.  Toss again until kale is evenly coated.  Spread onto a baking sheet, and bake for approximately 15 minutes or until crispy and brown around the edges. Enjoy by themselves, or try crumbling them up over baked potatoes, pasta dishes, or salads.
Alternately you can use a dehydrator to cure your kale chips, about 110 degrees is a good temperature and you would just increase the time to about 3 to 4 hours.
Cheesy Kale Chips
Ingredients
3/4 cup cashews
1 bunch kale (washed and dried)
1/2 red bell pepper (stem and seeds removed, chopped into large pieces)
1 clove garlic (peeled)
1 tbsp soy sauce
2 tbsps vegetable oil
1/3 cup nutritional yeast (not to be confused with Brewer's yeast)
1 lemon (peeled, cut into wedges, and de-seeded as much as possible, a few stragglers are ok)
for complete preparation details for Cheesy Kale Chips click here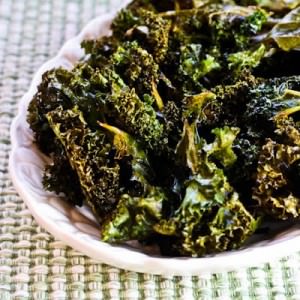 Roasted Kale Chips with Sea Salt and Vinegar
Ingredients
1 kale (about 6 oz.)
1 tbsp extra virgin olive oil
1 tbsp vinegar (I used Spanish sherry vinegar, but any vinegar you like the flavor of will work)
sea salt (to taste)
for complete preparation details click here
Kale is one of the hottest trending food items right now, in restaurants, its the talk of the town in cities large and small all over the United States.
With kale being one of the world's healthiest foods, it's no wonder restaurants are adding it to their menus as part of a healthier offering to keep up with this new demand of not only kale but other leafy green products with superior nutritional value.
People are discovering the high nutritional value of the dark leafy green and the thousands of recipes that are available online for everything from raw kale salads to cooked kale casseroles and how well it goes with their regular meals.
Many are starting to add these highly nutritious leafy greens to their dinner table on a daily basis.
I have been preparing this Asian kale salad for many years and have served it in my restaurants and has been a successful dish. It is not only tasty but healthy and is prepared with all natural and organic ingredients and is in accord with my training as a macrobiotic chef.
I hope you enjoy it as much as my customers have enjoyed it.
This healthy Asian kale salad tastes especially best when it is made 1 hour prior to serving if you have the time, however can be served anytime.
I always recommend organic when possible, this not only tastes superior but you can count on it having little or no bad elements like pesticides.
Ingredients:
Salad:
4 cups chopped kale, spines removed
6 small chopped water chestnuts (optional)
1 chopped avocado
1  carrot – grated or matchsticks
2 tbsp finely chopped slivers of ginger
2 tablespoons sesame seeds – can be lightly toasted
Dressing:
2 tablespoons cider vinegar
1 tablespoons tamari
2 tablespoons olive oil
2 tablespoons toasted sesame oil
1 tsp genmai miso
Instructions
Place the kale in a large bowl and add small amount of oil and massage the kale.
add, carrot, ginger, & optional chestnuts
Add sesame seeds.
Make dressing separately, and add to salad, mix together lightly
add avocado & light toss
serve and enjoy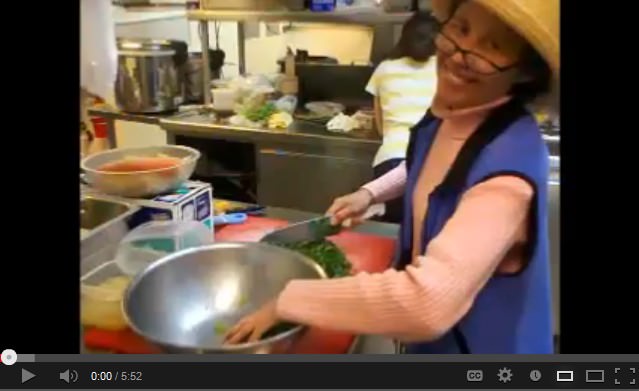 You can always add a little extra sesame oil or tamari to taste before eating. Serve cooled as a perfect lunch or dinner time addition or eat on its own as a meal.
Be creative and add a few of your own toppings to it and see how pretty you can make it look for your dinner table.
One thing for sure is that Kale salads are one of the healthiest choices for your diet and will keep you feeling and looking youthful and alive.
Cheers!   Chef Pearl Pardee
Thai Basil is a great and excellent source of vitamins and essential nutrients. There are a lot of other nutrients, vitamins and minerals present in Thai basil that are not listed here such as vitamin C and omega-3 fatty acid.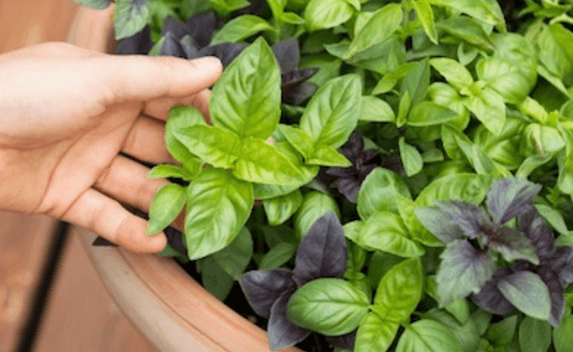 4 Unexpected Health Benefits of Basil
Basil leaves come complete with an array of antioxidants and other wonderful phytonutrients. Some of these phytonutrients, orientin and vicenin, which are in the flavonoid family, have been found to "protect cell structures as well as chromosomes from radiation and oxygen-based damage… Read more at Care2.com
Thai Basil seeds are said to have antioxidants, anti-cancer properties, anti-viral, anti-bacterial, and anti-fungal properties. Minimal scientific research has been done on basil seeds. Maybe because there's no huge market for Thai basil seeds yet. But the future for basil seeds looks very promising based on preliminary research.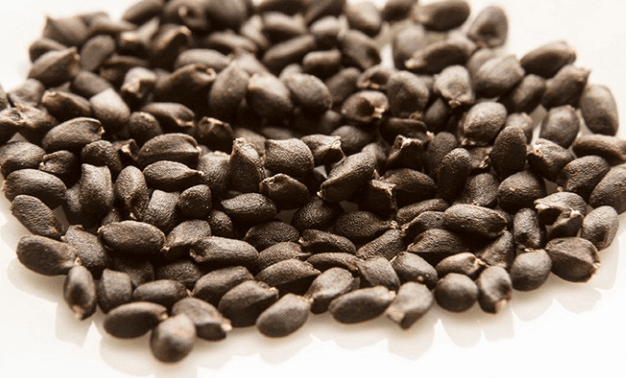 Are Basil Seeds the New Superfood?
A detailed nutritional study of basil seeds is currently not available. But like other seeds, basil seeds contain all the concentrated nutrients and building blocks needed to grow a new plant. No toxicity or any harmful effects have ever been found for basil seeds. They're recognized as safe to eat. Their basic nutritional make-up compared to chia seeds is… Read more at EcoWatch.com
Various Skin and Hair Benefits of Basil | Mind Blowing Basil Benefits
Basil makes a lot of sauces and dishes smell and taste extra special. But did you know that it is also being used in traditional healing for centuries now because of its impressive medicinal properties? It's known to be highly effective against sore throat, fever, the common cold, cough, obesity, stress and even cancer… Watch here