If you like eating Thai food, then you may know that Galangal is the ginger used in authentic Thai cuisine. Galangal has its own unique flavor compared to your conventional ginger. Know a little bit more about what it is and why you should try this unique flavorful root.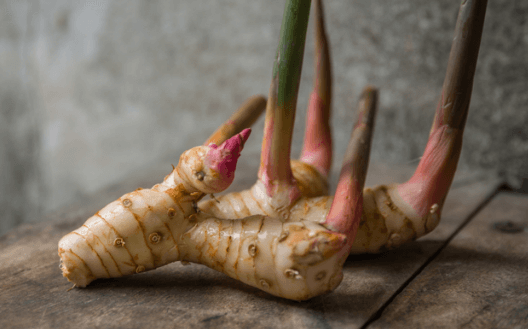 Ingredient Spotlight: Galangal, the 'Thai Ginger' You Need in Your Pantry
Did you know that galangal has been known to Europe since the Middle Ages? That's hard to believe, since many of us have never heard of it. Upon first glance, galangal looks very similar to ginger; it's a knobby, strange-looking root that has light-colored skin and protruding white stems with pink tips. Chances are, though, you've tasted galangal at least once in your life, especially if you are a fan of Thai food. It is a… Read more at One Green Planet
Galangal's medicinal benefits is quite the same to that common ginger. It can cure an upset stomach and nausea. Galangal has antiseptic properties and is packed with antioxidants, which can make skin healthier. Its anti-inflammatory properties help in targeting arthritis.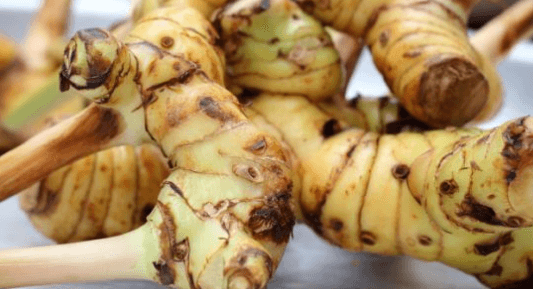 From Galangal to Basil: Spices That Make Thai Food So Healthy
Thai cuisine boasts of certain indigenous ingredients that not only go splattering in the wok but are also gifted with a number of medicinal qualities.  From curing digestive troubles, relieving common cold and flu to reducing blood pressure, boosting immunity, aiding in detoxification and much more… Read more at NDTV.com
What is the Difference Between Ginger and Galangal??!
If you've ever visited an Asian grocery store and saw something that looked like ginger, but wasn't, then you've come across galangal. In this video… Watch here
This rich tom kah coconut milk soup has been a long-standing favorite of Thai Spices' patrons for years. It gets its unique rich flavor from quintessential Thai ingredients such as lemon grass, galangal root and kaffir lime leaf. It's a quick and easy soup to make that's surprisingly satisfying and delicious.
A Healthier Take on Tom Kah Coconut Soup
This healthy version of a traditional Thai dish is prepared using macrobiotic principles. The vegetables are cooked lightly in water instead of oil and balanced herbs are used. This soup can be made vegan, if you prefer it, by using Bragg's Liquid Amino as your stock base instead of traditional fish sauce.
Most of the ingredients for Tom Kah coconut soup you can find at your local Asian grocer, a health food store or on Amazon.com.
by Master Chef Pearl Pardee
Ingredients
Half a white onion, sliced wide

2 cans coconut milk (not lite)

1 small size carrot, cut in thick matchsticks
5-6 kaffir lime leaves (sliced thin)
2-3 slices galangal root

2 stalks of fresh lemon grass, cut into 1″ pieces

1/2 of a jalapeno pepper cut into medium pieces (or more if you prefer a hotter soup)
(Optional) other sliced vegetables such as broccoli and button mushrooms, cooked chicken pieces or shrimp
2-3 tsp Bragg's Liquid Amino seasoning or fish sauce or 1-2 tsp sea salt
Small handful of cilantro sprigs
1 green onion, sliced
2 tsp lemon juice
Preparation
1. In a separate saucepan add coconut milk, kaffir lime leaves, galangal and lemon grass. Simmer for 30 minutes to 1 hour or so for taste. (when the broth is ready you can keep the herbs in for next step or dispose of the herbs if you desire)
2. In a separate pan saute the onion, carrot pieces in a small amount of water until they begin to soften.
3. When coconut broth is ready, add the sauteed vegetables
4. Then add optional vegetables and meat.
5. Stir in Bragg's, fish sauce or sea salt and continue cooking 5 or 10 minutes longer until optional items are cooked.
6. Top with cilantro sprigs, green onion and lemon juice and serve.
Enjoy!