From Fresh Green Kale to Dried Kale Chips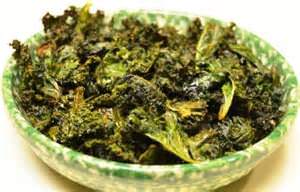 Basic Kale Chips Recipe

1 bunch kale – wash, remove stems, and tear into 3 to 4 inch pieces.
2 tablespoons nutritional yeast
1/2 tablespoon apple cider vinegar
1 tablespoon olive oil
Pinch of sea salt
Heat oven to 375 degrees.  Mix vinegar and oil, pour over kale and toss to coat.  Sprinkle in the nutritional yeast and salt.  Toss again until kale is evenly coated.  Spread onto a baking sheet, and bake for approximately 15 minutes or until crispy and brown around the edges. Enjoy by themselves, or try crumbling them up over baked potatoes, pasta dishes, or salads.
Alternately you can use a dehydrator to cure your kale chips, about 110 degrees is a good temperature and you would just increase the time to about 3 to 4 hours.
Cheesy Kale Chips
Ingredients
3/4 cup cashews
1 bunch kale (washed and dried)
1/2 red bell pepper (stem and seeds removed, chopped into large pieces)
1 clove garlic (peeled)
1 tbsp soy sauce
2 tbsps vegetable oil
1/3 cup nutritional yeast (not to be confused with Brewer's yeast)
1 lemon (peeled, cut into wedges, and de-seeded as much as possible, a few stragglers are ok)
for complete preparation details for Cheesy Kale Chips click here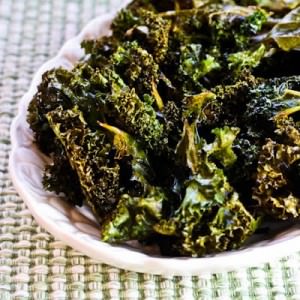 Roasted Kale Chips with Sea Salt and Vinegar
Ingredients
1 kale (about 6 oz.)
1 tbsp extra virgin olive oil
1 tbsp vinegar (I used Spanish sherry vinegar, but any vinegar you like the flavor of will work)
sea salt (to taste)
for complete preparation details click here

Originally posted 2013-09-16 14:20:26.